Weeknotes 15 - Volunteering at the London Marathon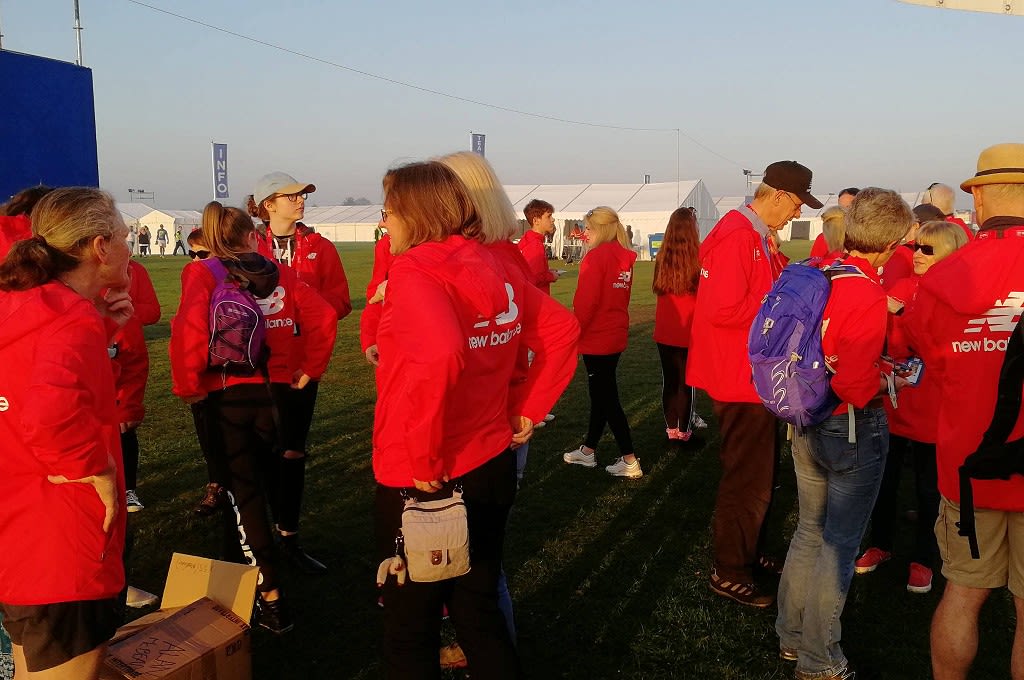 In this post, all about volunteering at the 2018 London Marathon.
I've never run a marathon and, apart from TV watching, haven't experienced race day at a big event like the London Marathon. So, it was with excitement and a few nerves that I travelled up to Blackheath at 5am on Sunday to help out on the big day.
I managed to get a volunteering spot through my local running club, Horsham Joggers, who supplied approx. 25 volunteers on Sunday morning. Our role was to answer questions from runners as they congregated for the event.
In rather fetching red jackets, we were positioned at different points on a misty Blackheath at 6.30am, just outside the assembly areas as runners arrived, some very early at 7am … and some who left it late, 5 minutes before the 10am start!
Many of the questions were simple to answer. Where is my assembly area? Where are the toilets? Where can I leave my race bag? That sort of thing. It was great to be able to help.
As the start time approached, there were more and more people in the meeting areas and other marshals started moving barriers around so that runners could be funnelled into the start zones. This was a bit more difficult because I was on a crossing point which was no longer available. So, some runners had to be directed the long way round or shepherded across the road in small groups.
It was a hot Spring day by now and at 9.45am, we were moved to a different place to direct latecomers to the correct area … and to answer questions from onlookers about the best place to watch, how to get to the nearest point on the course etc.
At 10am, we were finished volunteering for the day and were able to watch from a few feet as runners were moved forward in waves towards the start line. There was a great atmosphere and lots of clapping and brief conversations with everyone, even though the start line was 100 metres up the road.
After everyone was away from our area, some of our volunteer crew walked or travelled to other points on the course, for example Cutty Sark at the 6 mile point in the race. I wish I'd done that now but I was sharing a lift with a couple of others and we headed back home. Next time though!
Overall, it was very enjoyable day and a great opportunity to get involved and experience the atmosphere at the start of the Marathon. I'd like to do it again next year.